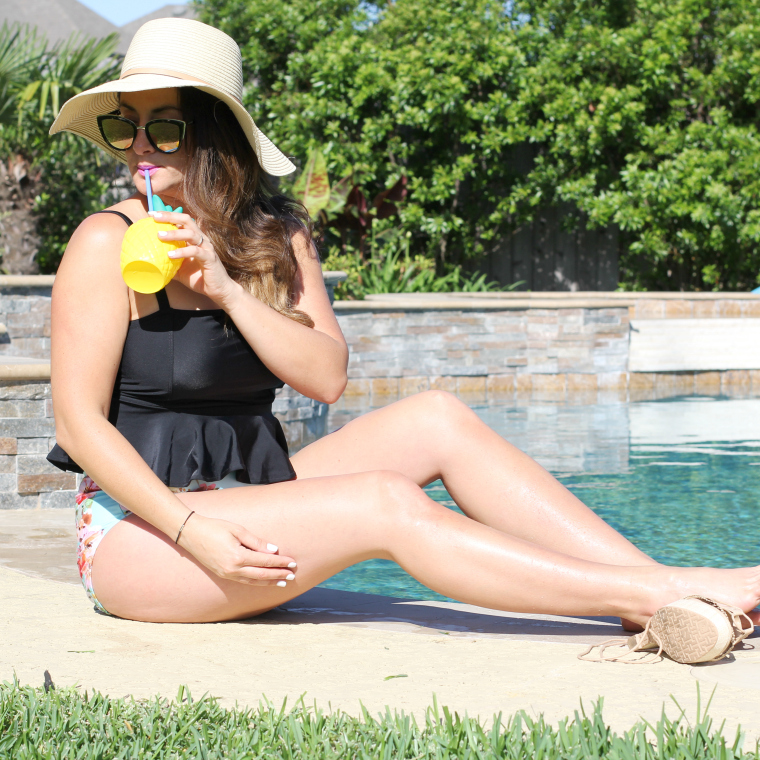 HAT: Similar  SUNGLASSES: Quay  BATHING SUIT: Janela Bay
Sharing some of my favorite Mom Bod Bathing suits with you. But before we dive into the suits, lets go back to where it all begin.
Mom-Bod Status
I'm 5'4 and before kids I was 115lbs. I had no butt, no chest, and a metabolism that wouldn't quit. I could literally eat an entire pizza and wouldn't gain an ounce! My dad has an incredible metabolism. I had him to thank, but something happened after having kids. My body changed a lot!  My first two were c-sections and my 3rd was a home birth (will have to share that on another blog post. Ha!) Anyway, since having kids I have developed a tush and a chest that is way too big for my shoulders to carry (34DDD and yes there is such a thing as triple D). It's been really weird getting used to THIS body and at times adjusting to all these changes has been challenging. For each baby I gained between 45-55lbs. I still have about 15lbs to lose to get back to my pre-baby weight and it just won't come off no matter what I do.
Acceptance
After a few years of up and down on the scale I realized I needed to just stop and count my blessings. Instead of worrying about all the superficial stuff, which really is pointless (unless it's health related),  I started focusing on my 3 healthy children and all the blessings I have in my life. Which are all priceless to me. Being a size 2 may never be in the cards for me again and that is just fine by me. I have learned that even though my body has changed a lot, I need to fully embrace what the good Lord gave me and to remember that my body was a vessel in bringing 3 miracles into the world. That is one incredible fete. Bringing 3 kids into the world doesn't exempt me from taking them to the pool or beach. So, I have rounded up some great mom bod bathing suits for all shapes and sizes. Take a look and let me know what you think.
SUIT TOP: Janela Bay  SUIT BOTTOM: Janela Bay
Remember you are a beautiful creation and don't let anyone tell you otherwise 🙂
Much love to you,
XoXo
Alley