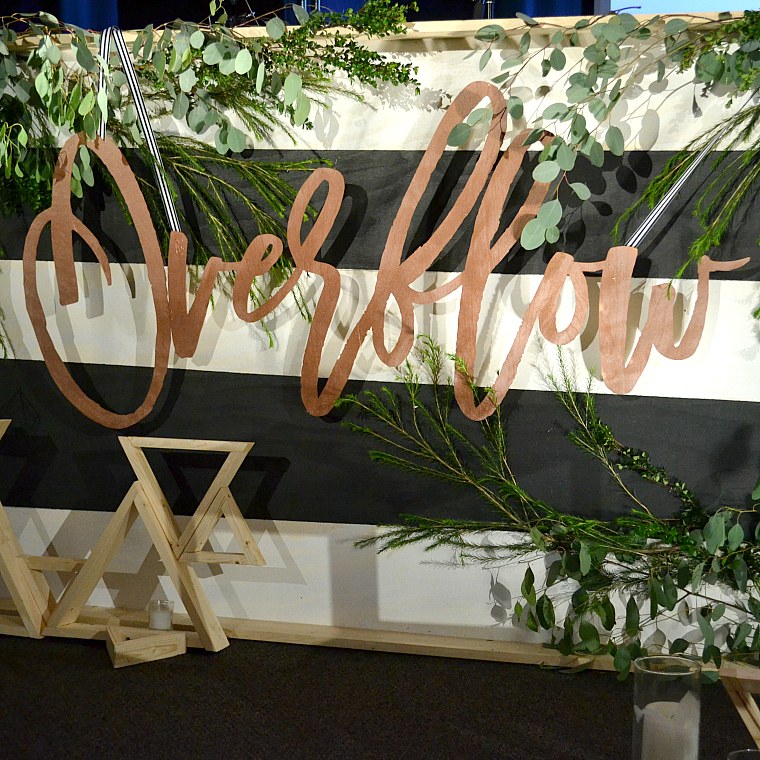 Are you a woman parenting on your own? Looking for support and for a community to help? Overflow, Bayou City Fellowship, is dedicated to serving women who are parenting on their own and their children. They serve as a resource to women while pointing them towards Jesus Christ. Overflow has numerous ways they stay connected with their community. Annual conference, seasonal gatherings, and on-going encouragement. I had the honor of interviewing a single mom that openly shared her experience with Overflow.
Interview with an Overflow Mama
Meet Natalie
Natalie Mott, 36, a native of New Orleans, LA and mother to Jada. Moved to Houston in 2005 by way of Hurricane Katrina. Natalie works in Healthcare Administration at a local Houston hospital."I once felt like God could never love a girl like me, especially with all I had done. And then I encountered the forceful grace and gentle mercy of Jesus. I am passionate about leading others to experience a personal encounter with God."  Natalie loves roller skating, dancing wherever music is playing and most of all, hanging out with her teenage daughter, Jada.
How did you learn about Overflow?
"I was speaking at an event in 2014 that Corlischa Badenhorst, Bayou City Fellowship Women's Pastor, was attending as well. At the time, I was in a very dry place, and I'd made up my mind that this speaking engagement would be my last. I was emotionally drained. However, I did not know that God had something else in mind. Corlischa approached me after the event and shared that they had been praying for a speaker for their first Overflow conference, and she was hoping I would be that person. I was clutching my purse so tight because I was literally about to run. LOL.  God has a sense of humor for sure. I met with her and Natalie McGhee for lunch and when they told me about their vision I was all in. I did not know that this event would transform my life the way that it has."
What was your first impression of the organization?
"First, I walked in and the décor was AMAZING. I recall the flutters in my heart as I tip toed into the building. It completely disarmed me. There were these bricks on the table with beautiful flowers and a scripture that literally breathed life into my soul. I was captivated by the love shown by the volunteers at this event. Their compassion had me completely undone. I had to speak, but I was able to soak in the beauty of Overflow. I think it is great when you can walk into a place and instantly feel the Lord's presence. I did not feel like these women felt sorry for me, but they had empathy and it was such a sweet gift during that time in my life. The prayer room is my one of my favorite things about Overflow. There are women there willing to pray with you or just hold you when you can barely stand up."

How has Overflow impacted your life?
"Overflow has had a tremendous impact in my life. It has helped me to share my story from a place of hope and not hopelessness. I have been connected with incredible women that have taken my hand in the darkest moments and walked with me and connected me to a God whose love never fails. I have learned how to ask for help and that I don't have to suffer in silence."
What would you tell someone about Overflow?
"Girl, I don't care what you have to give up for a Friday evening and Saturday, but you have to get to this conference. It is an experience that will allow you to connect with women that know what you are going through and want to encourage you along the way." Conference Registration—> CLICK HERE  "Also, if you need someone to meet you in the parking lot the day of the conference. I'm your girl. Please feel free to reach out to me."  Natalie's email –> HERE

Any Overflow events coming up ?
"Yes, our annual conference,(mentioned in previous question) is coming up on June 16th and 17th . We will also have follow-up groups after the conference. This is another one of my favs about Overflow. We don't just have a conference and leave you hanging. No, we want to stay connected. We have the follow-up groups at both locations (Cypress,TX and Spring Branch,TX). I will be leading the group at our Spring Branch location along with another mom who has been parenting alone for 20+ years." Email Natalie for follow up group schedule HERE  

How can someone get connected to Overflow?
"We have multiple ways you can connect to Overflow " (see below).
overflow@bayoucityfellowship.com 
https://www.facebook.com/OverflowBCF
 https://twitter.com/Overflow_BCF
 http://instagram.com/overflow_bcf#
Thank you for taking the time to learn more about Overflow and reading my interview with Natalie.
If you have any questions please reach out to me.
Much Love,
Alley